The Marion L. Brittain Postdoctoral Fellowship offers an opportunity for emerging scholars to develop innovative teaching and scholarship in writing and communication in their role as faculty members.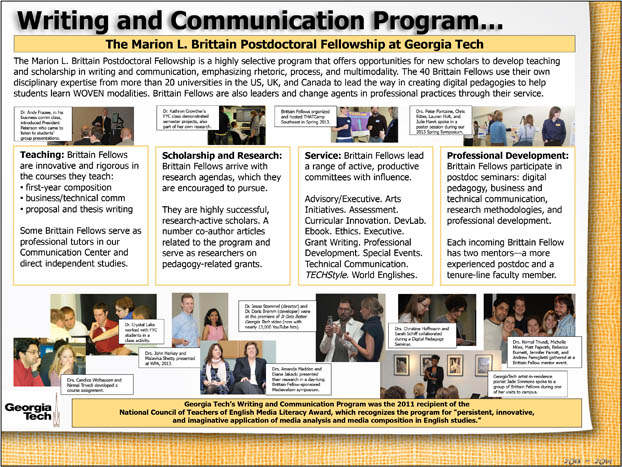 Current Brittain Fellows have recently received their Ph.D.s from more than twenty-five universities around the world. Their degrees represent diverse disciplines: literature, communication, rhetoric, composition, technical and business communication, creative writing, film studies, performance studies, critical theory, cultural studies, and related fields. However, common interests in digital pedagogy and the cultural studies of science and technology characterize the program.
Appointment
Brittain Fellows are faculty members at the Georgia Institute of Technology with Instructor rank and full benefits for up to three sequential one-year appointments. Each term, Fellows usually teach three sections of English 1101, English 1102, or LMC 3403. Fellows tailor their communication courses to their own research interests while meeting state and university objectives and outcomes. The Brittain Fellowship Committee starts reviewing applications each February; review continues until all positions are filled.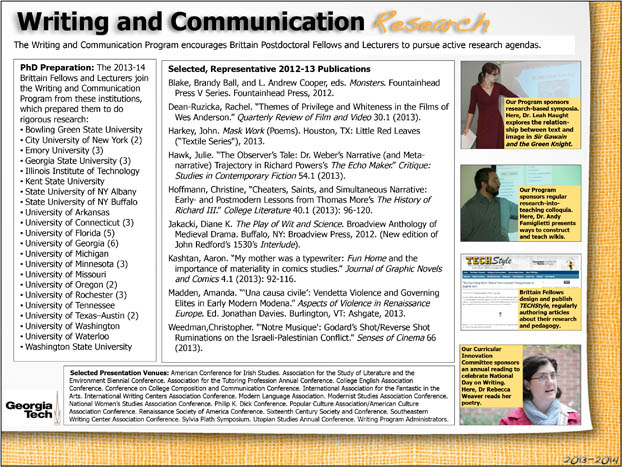 Seminars and Certification
Brittain Fellows participate in semester-long postdoctoral seminars that address the theory and practice of digital pedagogy as well as the theory and practice of technical communication. Fellows may choose to complete Postdoctoral Certification Programs in Digital Pedagogy and Technical Communication.
Activities and Awards
Brittain Fellows share the connections they make between research and teaching during regular meetings of the Communication Colloquium. They also serve on a variety of programmatic committees as chairs or members, facilitate special events such as speakers or film series, and make other unique contributions to the program. Each year, Fellows compete for awards for innovation in pedagogy, multimodality, and technical communication.
Alumni and History
The Brittain Fellowship's history extends over 20 years. Fellow Alumni have academic and professional positions in universities and industries around the world.