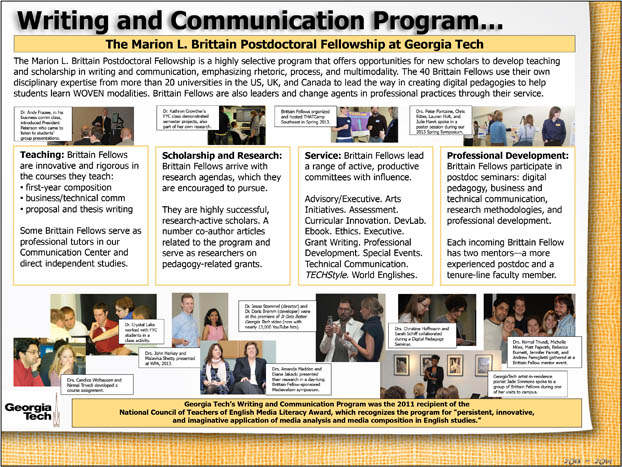 Marion L. Brittain Postdoctoral Fellowship is a highly selective program that offers opportunities for new scholars to develop teaching and scholarship in writing and communication, emphasizing rhetoric, process, and multimodality. The 40 Brittain Fellows use their own disciplinary expertise from more than 20 universities in the US, UK, and Canada to lead the way in creating digital pedagogies to help students learn WOVEN modalities. Brittain Fellows are also leaders and change agents in professional practices through their service.
Teaching
Brittain Fellows are innovative and rigorous in the course they teach:
First-year composition
Business/technical comm
Proposal and thesis writing
Some Brittain Fellows serve as professional tutors in our Communication Center and direct independent studies
Scholarship and Research
Brittain Fellows arrive with research agendas, which they are encouraged to pursue.
They are highly successful, research-active scholars. A number co-author articles related to the program and serve as researchers on pedagogy-related grants.
Service
Brittain Fellows lead a range of active, productive committee with influence.
Advisory/Executive. Arts Initiatives. Assessment. Curricular Innovation. DevLab. EBook. Ethics. Executive. Grant Writing. Professional Development. Special Events. Technical Communication. TECHStyle. World Englishes.
Professional Development
Brittain Fellows participate in postdoc seminars: digital pedagogy, business and technicality communication, research methodologies, and professional development.
Each incoming Brittain Fellow has two mentors – a more experienced postdoc and a tenure-line faculty member.
Awards
Georgia Tech's Writing and Communication Program was the 2011 recipient of the National Council of Teachers of English Media Literacy Award, which recognizes the program for "persistent, innovative, and imaginative application of media analysis and media composition in English studies.