The Writing and Communication Program has several standing committees that Brittain Fellows serve on. Brittain Fellows also elect members to represent them on the LMC Executive Committee and the Writing and Communication Program Committee.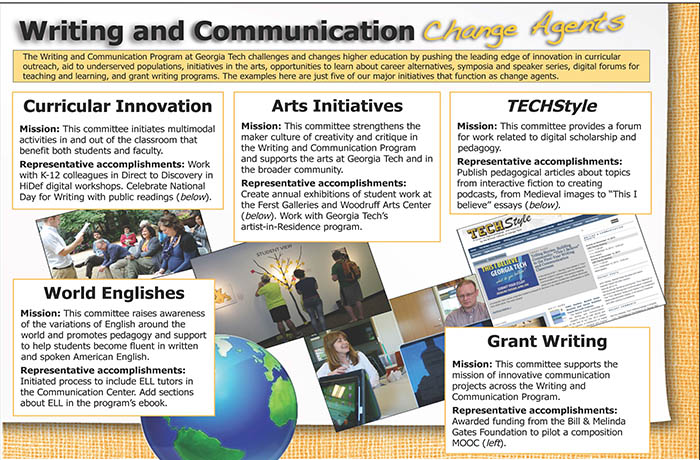 Curricular Innovation Committee
The Curricular Innovation Committee's mission is to foster creativity and disseminate teaching innovations throughout the Writing and Communication Program as well as to a wider audience. The committee also extends WCP's resourceful, innovative teaching to less advantaged populations. Chair: Eric Lewis
DevLab Committee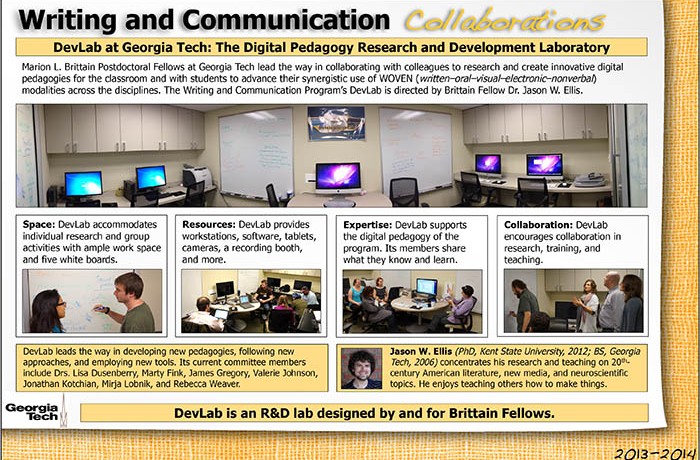 The mission of the DevLab Committee is to maintain and promote the Writing and Communication Program's Research and Development Lab in order to enhance the teaching and research activities of WCP faculty. The DevLab Committee acquires hardware and software resources for the lab, maintains and manages these resources, and helps Brittain Fellows develop their technological skills through workshops, presentations, and documentation. This facility includes computer workstations, iPads, camera equipment, USB microphones, a large-format printer, laminator, and overhead book scanner, and software associated with video editing, scanning, printing, and DVD production. Co-Chairs: Andrew Dorkin & Matthew Halm
WOVENText Committee
The mission of the WOVENText Committee is to develop superior textbooks and related resources that reflect the emphasis on rhetorical and WOVEN (written, oral, visual, electronic, and nonverbal) communication in all Writing and Communication Program courses. The resources created and maintained by this committee support not only English 1101, English 1102, and technical communication courses, but also communication in and across the disciplines. We'll be working to shift from an e-book to e-publication text, increasing the affordances of the text in terms of media, usability, and affordability. We'll also be moving away from the Bedford Book of Genres as our base text to Writer/Designer, a shift that reflects the emphasis of the WCP's WOVEN curriculum. Chair: Suchismita Dutta
Grant Writing Committee
By identifying grant opportunities and writing proposals, the Grant Writing Committee seeks to secure funding for digital humanities and public humanities-oriented projects that increase the visibility of scholarship, pedagogy, and engagement of WCP faculty. The committee also uses workshops and outreach to foster the efforts of WCP faculty to research and write individual grants. In addition to a fall and a spring workshop or outreach event, the Grant Writing Committee will complete one major grant per academic year, the writing for which will mostly occur over the late fall and spring semesters. Chair: Danielle Gilman
Hiring Committee
The mission of the Hiring Committee is to review and disseminate the job listings for Marion L. Brittain Postdoctoral Fellows, contribute to the interview questions and other aspects of the process, review and rank the applicants, interview and rank selected applicants, and make recommendations for hiring. Note: Hiring committee work takes place primarily during spring semester. Chair: Andy Frazee
Podcast Committee
The mission of the Podcast Committee is to refine and continue production of The Office Hour podcast, while also expanding TECHStyle's podcast offerings. The committee mission includes creating opportunities for otherwise invisible or inaudible labor to appear in a professional online platform. As such, the committee is interested in engaging Brittain Fellows in transmitting the rich conversation emerging from conference presentations, class lectures, job talks, and student work to a broader public conversation on media and pedagogy. Chair: Eric Lewis
Professional Development Committee
The mission of the Professional Development Committee is to support Brittain Fellows and WCP Lecturers as they develop as teachers and scholars alike through a variety of opportunities, including workshops, writing groups, peer observation, and invited speakers. The Professional Development Committee encourages the pursuit of academic and alt-ac careers, helping WCP faculty create professional portfolios and showcase their ongoing scholarship and research in presentations and job talks rehearsals. Chair: Rachel Dean-Ruzicka
Technical Communication Committee
The Technical Communication Committee's broad mission is to explore and address issues and opportunities related to the curricular presence of technical communication at Georgia Tech. More specifically, we aim (1) to strengthen course outcomes, assessment, and pedagogy for LMC 3403, LMC 3431, and LMC 3432 courses and (2) to explore opportunities to extend and promote the curricular presence of technical communication. We welcome all Brittain Fellows to join us as we continue to explore the rapidly expanding field of Professional Communications. Co-Chairs: Lee Hibbard
TechStyle Committee
As the online forum for digital pedagogy and research by the Brittain Fellows at Georgia Tech, TECHStyle has a mission to serve as a public-facing publication showcasing a broad range of Writing and Communication Program professional activity. WCP faculty and occasional student and tenure-line faculty contributors use the site to promote teaching and scholarship, to share ideas with colleagues, and to participate in larger discourse communities with comparable interests. The editors increasingly encourage collaborative contributions to the site that promote interdisciplinary scholarship and reflect the collaborative pedagogical community of the Brittain Fellowship. TECHStyle thrives on posts that ruminate about classroom activities as well as heftier essays-in-development. Chair/Editor: Shane Snyder
Writing and Communication Program Advisory Committee
The Writing and Communication Program Committee is comprised of representatives elected by the current Brittain Fellows and program leadership, and also the program's Director, Associate Director, Assistant Director, and Assessment Coordinator. This committee examines and debates issues relevant to Georgia Tech's Writing and Communication Program. It provides the program administrators with recommendations concerning policies, plans projects, curricular changes, as well as completing tasks vital to the program's operation and development.
World Englishes Committee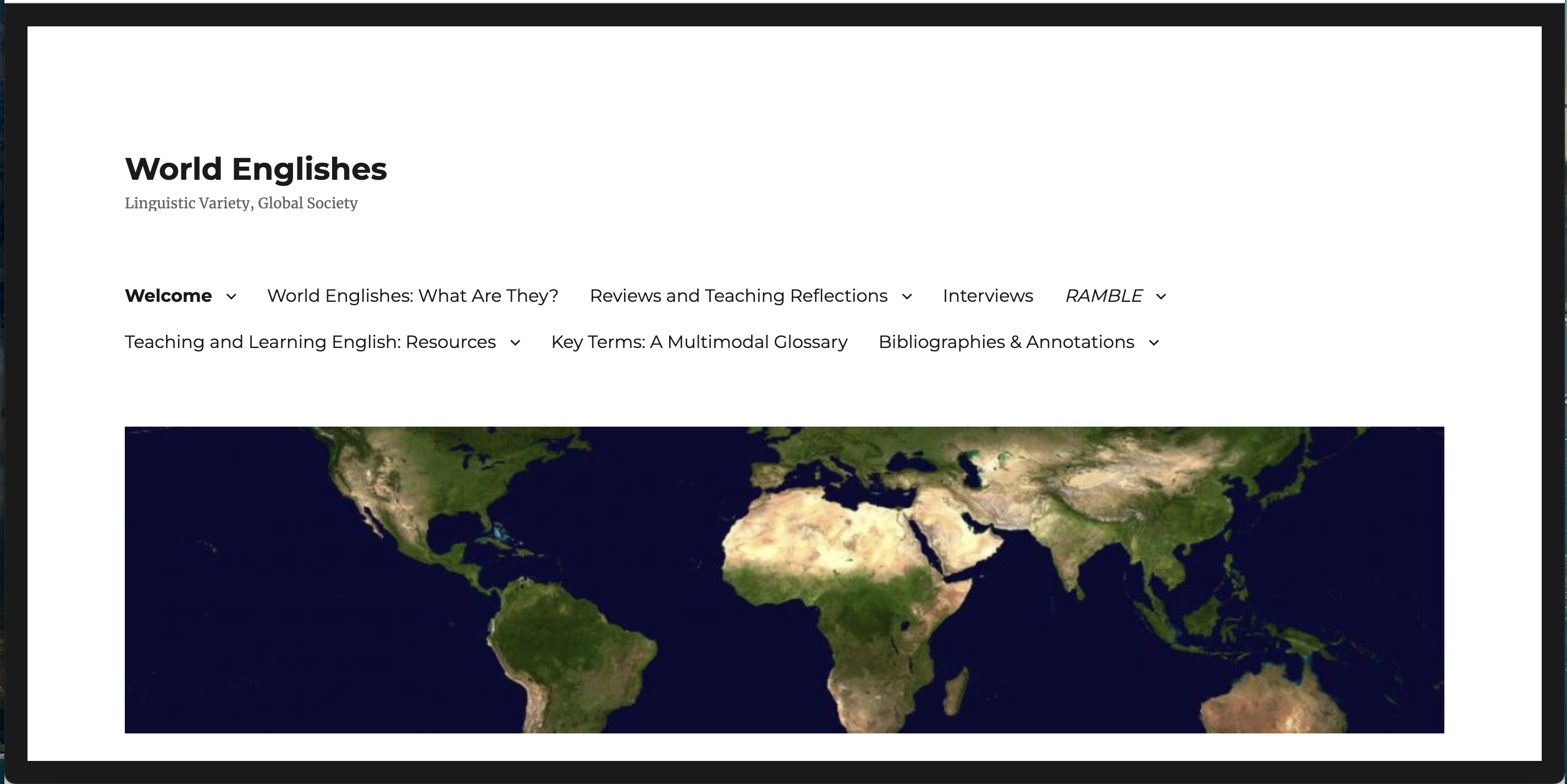 While English is the common denominator for communication among diverse cultural groups, the changing roles and functions of English around the world have altered strategies for English language pedagogy. In response to this growing trend and the varieties of spoken and written Englishes, the World Englishes Committee's mission is to develop physical and digital resources and strategies for Writing and Communication Program faculty and students at Georgia Tech. You can visit their website here. Chair: Mike Lehman