The Writing and Communication Program has several standing committees that Brittain Fellows serve on. Brittain Fellows also elect members to represent them on the LMC Executive Committee and the Writing and Communication Program Committee.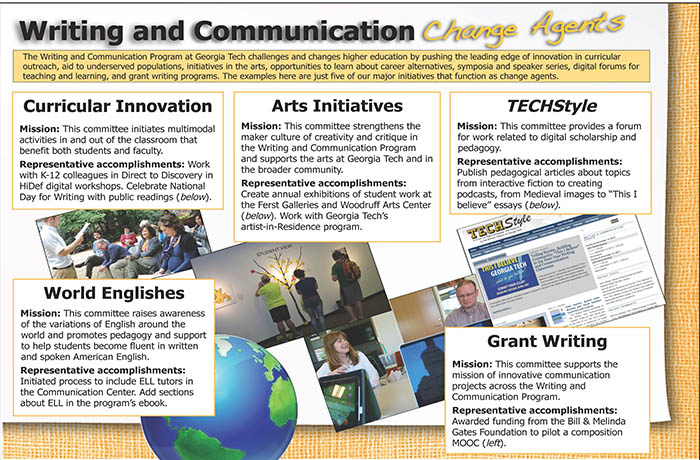 Arts Initiatives Committee
The
 mission
 o
f this 
committee
 is 
to promote the arts within our curriculum and classrooms and to create and facilitate venues for exhibiting student work. The major project is an 
annual 
exhibition called Student View that takes place in the early spring semester in conjunction with the Tech Arts Festival
.

 Other projects could include (based on committee members' interests) coordinating mini-exhibits in the Hall Building, developing digital exhibits, and coordinating workshops on using the arts in teaching. Co-Chairs: Michael Griffin and Caroline Young
Assessment Committee
The assessment committee refines the ways in which WCP measures its success, especially as the resulting data informs both internal and external stakeholders. We provide recommendations about the portfolio and the rubric and consider how to best support faculty members who participate in programmatic assessment. We also encourage committee members to explore scholarly research about assessment, with the goal of encouraging their professional development in writing program administration and similar career paths. Chair: Andee Krafft
Curricular Innovation Committee
The Curricular Innovation Committee's mission is to foster creativity and disseminate teaching innovations throughout the Writing and Communication Program as well as to a wider audience. The committee also extends WCP's resourceful, innovative teaching to less advantaged populations. Co-Chairs: Sarah Higinbotham and Ruthie Yow
DevLab Committee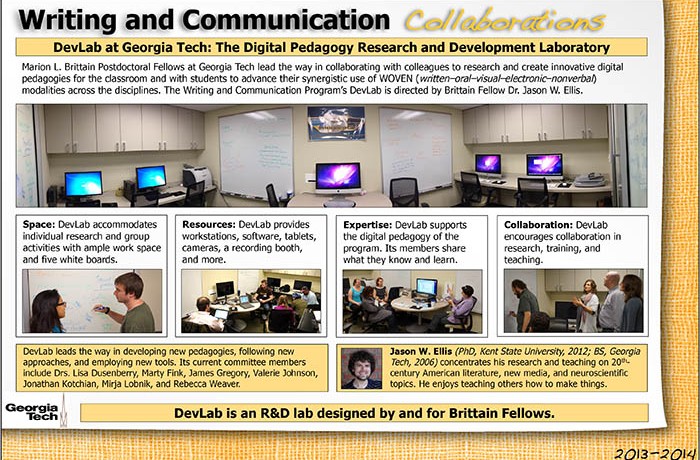 The mission of the DevLab Committee is to maintain the Writing and Communication Program's Research and Development Lab facility. This facility, which was established in the fall of 2009, consists of three Macintosh Pro workstations, two PCs, many iPads, camera equipment, USB microphones, and software associated with video editing, scanning, printing, and DVD production. The lab exists to enhance the teaching and research activities of Brittain Fellows by giving access to less-common technological tools. The DevLab committee assists in this process by acquiring hardware and software resources for the lab, maintaining and managing these resources, and helping Fellows develop their technological skills through presentations and workshops. Chair: Joshua Hussey
WOVENText Committee
The mission of the WOVENText Committee is to develop superior textbooks and related resources that reflect the emphasis on rhetorical and WOVEN (written, oral, visual, electronic, and nonverbal) communication in all Writing and Communication Program courses. The resources created and maintained by this committee support not only English 1101, English 1102, and LCC 3403 but also communication in and across the disciplines. Chair: Monica Miller
Grant Writing Committee
The purpose of the Grants Committee is to:
Initiate, develop, and support digital humanities and public humanities-oriented projects in order to increase visibility of scholarship, pedagogy, and engagement of Writing and Communication Program (WCP) faculty within the Georgia Tech campus community and among relevant community partners.
Encourage and provide opportunities for pedagogical innovation and professional development for WCP faculty.
Enhance STEAM education through multimodal communication.
Chair: Liz Hutter
Podcast Committee
Founded in 2015, the Podcast Committee explores the scholarly and pedagogical possibilities of audio production with three podcasts hosted by TechSTYLE. Flash Readings by the Brittain Fellows is an occasional series that features edited interviews with Fellows as they perform a precise close reading from their current research. 4.33@Tech is a collaboration with librarian Alison Valk and Georgia Tech students; it tells the surprising stories of Georgia Tech's soundscapes. The Office Hour is a weekly real-time chat between Andrew Marzoni, Tobias Wilson-Bates, and guests about the week's newsworthy intellectual debates. Those new to podcasting can learn production by contributing to existing podcasts, then venture out and start their own podcast. The committee also coordinates with the DevLab committee to host podcast workshops for those interested in sound and podcast assignments.
Professional Development Committee
The mission of the Professional Development committee is to support Brittain Fellows as they continue to develop as teachers and scholars alike through various programming, including writing groups, workshops, peer observation, and outside speaker series. We encourage Brittain Fellows to develop their vitae in the pursuit of traditional academic careers, "alt-ac" careers, or professional non-academic careers. Chair: Katy Huie Harrison
Technical Communication Committee
The Technical Communication Committee's broad mission is to explore and address issues and opportunities related to the curricular presence of technical communication at Georgia Tech. More specifically, we aim to (1) further develop and improve upon outcomes, assessment, and pedagogical approaches of the Writing and Communication Program's 3403 course; and (2) to explore opportunities to extend and promote the curricular presence of technical communication. Co-Chairs: Dr. Halcyon Lawrence and Dr. Julia Smith
TechStyle Committee
The TECHStyle committee will contribute to TECHStyle's continuing evolution as the online forum for multimodal pedagogy and research by the Brittain Fellows. Members of the committee will (1) write and solicit posts on innovative teaching methods, intersections of research and pedagogy, digital pedagogy and the digital humanities, Brittain Fellow research, and issues in higher education; (2) design, redesign or troubleshoot the WordPress template that currently plays host to TECHStyle's content; (3) share ideas about expanding TECHStyle's reach to a larger audience. Chairs: Anna Ioanes and Andrew Marzoni
Writing and Communication Program Committee
The Writing and Communication Program Committee is comprised of representatives elected by the current Brittain Fellows and program leadership, and also the program's Director, Associate Director, Assistant Director, and Assessment Coordinator. This committee examines and debates issues relevant to Georgia Tech's Writing and Communication Program. It provides the program administrators with recommendations concerning policies, plans projects, curricular changes, as well as completing tasks vital to the program's operation and development.
World Englishes Committee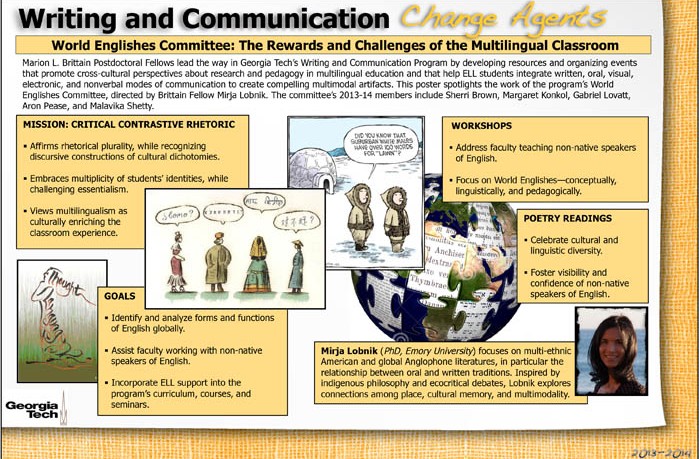 While English is the common denominator for communication among different cultural groups, the changing roles and functions of English around the world have altered strategies for English language pedagogy. In response to this growing trend and the varieties of spoken and written Englishes, the World Englishes Committee's mission is to develop resources and strategies for Writing and Communication Program faculty and students at Georgia Tech to better instruct this unique student population. Chair: Julie McCormick Weng