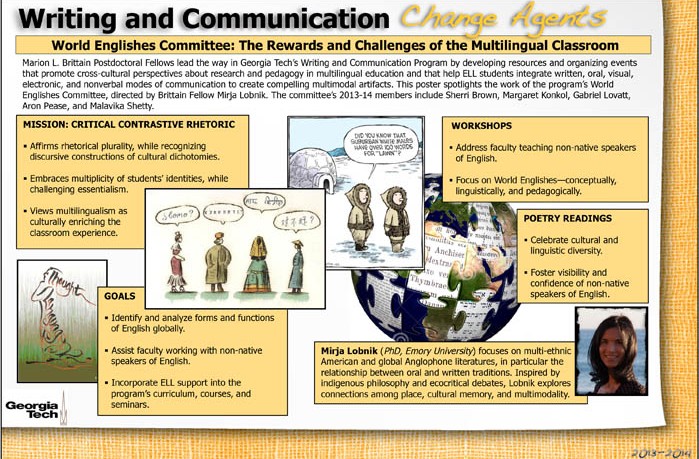 Marion L. Brittain Postdoctoral Fellows lead the way in Georgia Tech's Writing and Communication Program by developing resources and organizing events that promote cross-cultural perspectives about research and pedagogy in multilingual education and that help ELL students integrate written, oral visual, electronic, and nonverbal modes of communication to create compelling multimodal artifacts. This poster spotlights the work of the program's World Englishes Committee, directed by Brittain Fellow Mirja Lobnik. The committee's 2013-14 members include Sherri Brown, Margaret Konkol, Gabriel Lovatt, Aron Pease, and Malavika Shetty.
Mission: Critical Contrastive Rhetoric
Affirms rhetorical plurality, while recognizing discursive constructions of cultural dichotomies.
Embraces multiplicity of students' identities, while challenging essentialism.
Views multilingualism as culturally enriching the classroom experience.
Workshops
Address faculty teaching non-native speakers of English.
Focus on World Englishes – conceptually, linguistically, and pedagogically.
Poetry Readings
Celebrate cultural and linguistic diversity.
Foster visibility and confidence of non-native speakers of English.
Goals
Identify and analyze forms and functions of English globally.
Assist faculty working with non-native speakers of English.
Incorporate ELL support into the program's curriculum, courses, and seminars.
Mirja Lobnik (PhD, Emory University) focuses on multi-ethnic American and global Anglophone literatures, in particular the relationship between oral and written traditions. Inspired by the indigenous philosophy and ecocritical debates, Lobnik explores connections among place, cultural memory, and multimodality.