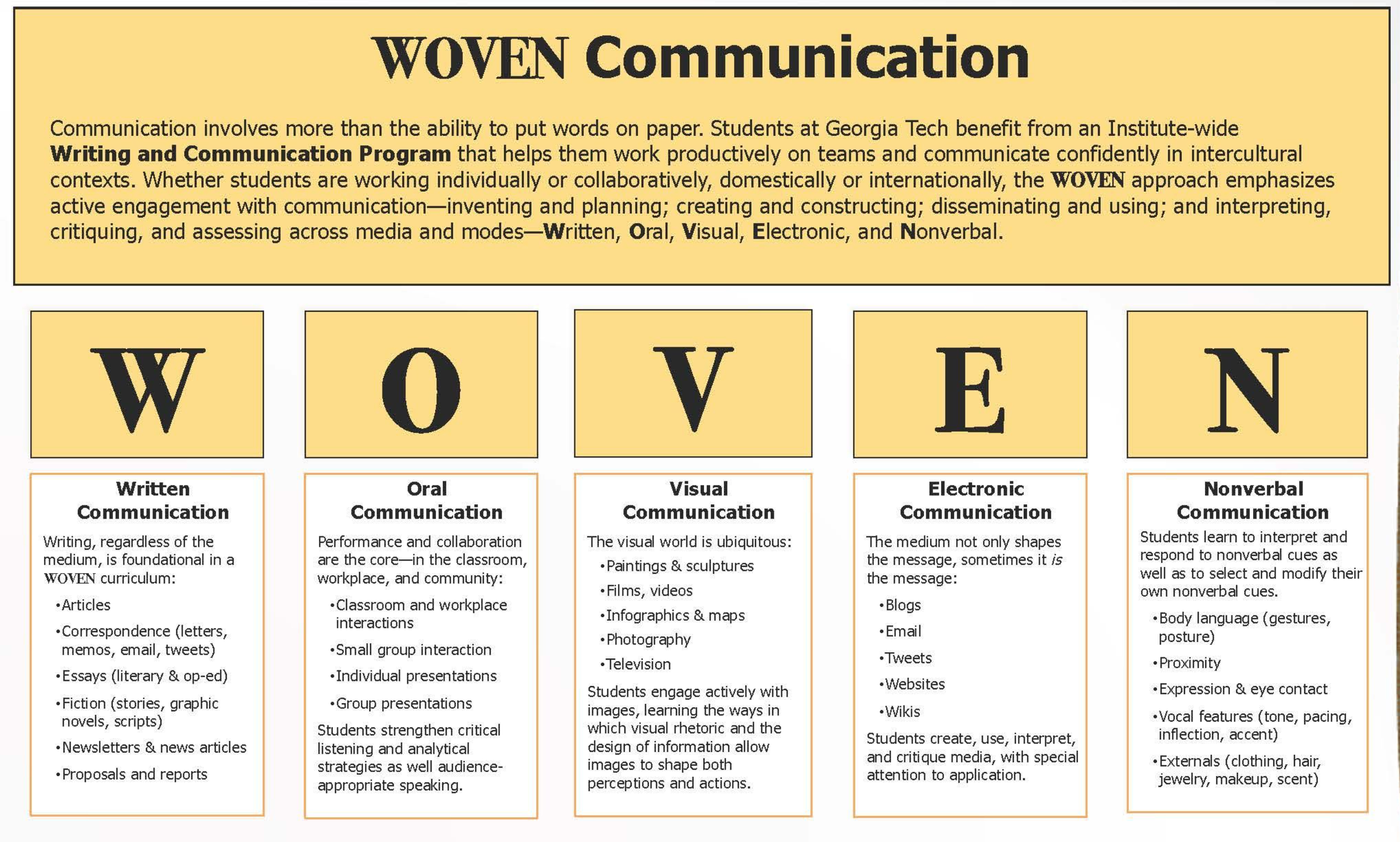 Rhetoric, Process, and Multimodality
Communication involves more than the ability to put words on paper. Students at Georgia Tech benefit from an Institute-wide program whose mission is to create a culture of communication across our extended camps.
The Writing and Communication Program encourages students to communicate productively and confidently as individuals and as teams about a range of topics and contexts, drawing on the expertise of the instructors.
The WOVEN approach emphasizes rhetoric, process, and multimodality. Students learn that modes and media are synergistic as they invent and plan; create and construct; disseminate and use; and interpret, critique, and assess written, oral, visual, electronic, and nonverbal communication.
Written Communication forms a foundation for rhetoric process, and multimodality. Students create artifacts ranging from essays, research articles, and proposals to websites, wikis, podcast video scripts, tweets, and blogs.
Oral Communication is the core of individual and team presentations for classrooms, workplaces, and the community. Students develop listening and speaking strategies for collaboration, engagement, and leadership.
Visual Communication focuses on information design for pages as well as screens – Typography, images, and animation – To interpret the ways visual rhetoric shapes our perceptions and actions.
Electronic Communication uses sound, image, and text in digital forms. Students learn media shape messages as they consider the psychological, social, political, economic, and ethical dimensions of digital media.
Nonverbal Communication begins with body language, eye contact, and voice and extends to attire, pacing of information, physical movement, and use of space as factors that affect audience response and trust.